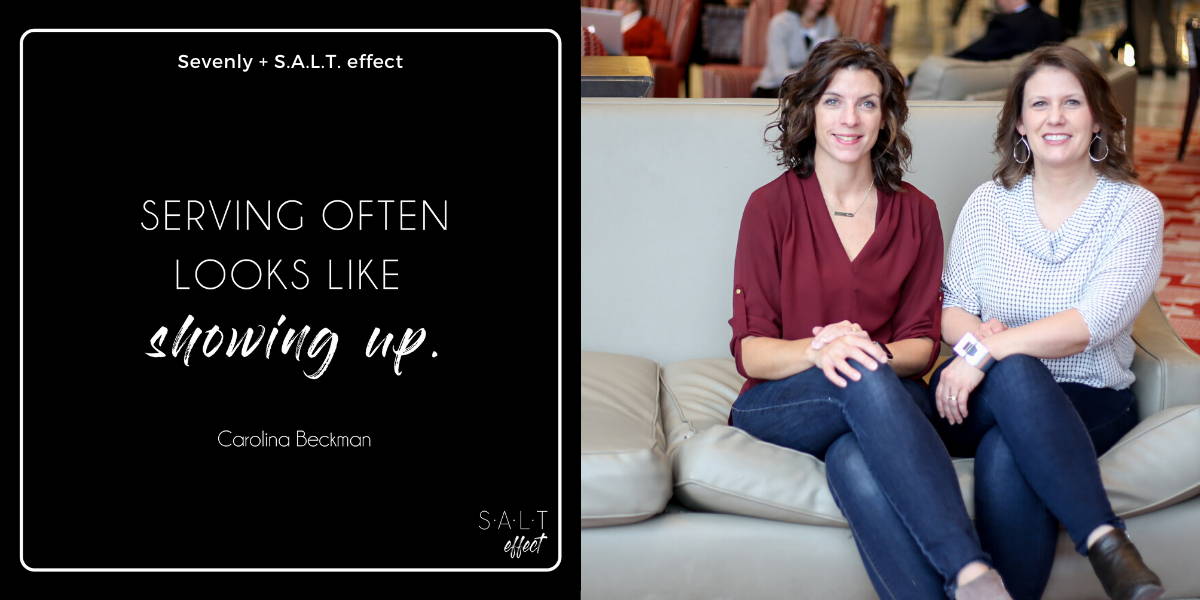 This week Sevenly is introducing you to a brand new cause partner,SALT effect! We think you will agree that their mission to "help working moms find theirsweet spot with careers they love and families they love even more" is timely and important.
During the next week, we want to help you to get to know wold-changersMary Sterenberg and Kristie Sigler. They founded SALT (Serving And Learning Together) effect to help busy moms build strong and happy families. When they're not working on SALT effect, they work as professors, teaching college students to write and speak. Theirsweet spot falls squarely in teaching and building relationships.
"We both hit a point where we were totally over life on the hamster wheel, so we made tough changes. We traded jobs that stressed us out for careers with more flexibility. Lives of frazzled busyness for schedules we lovingly refer to as chaos under control. A bunch of well-intentioned "shoulds" for things we actually cross off our to-do list".
They hear from moms that they're too busy and don't have enough downtime with their families. So many working mothers struggle to keep up with never-ending task lists at both work and home! Mary and Kristie are often labeled as supermoms or the moms who somehow get it all done. They want you to know that their success is not magic – but it is strategic and intentional. Rather than keep their strategy to themselves, they aim to help other moms figure out how to ditch life in survival mode and instead, build families and lives they love (check out 5 Days to a Better Balance).
What we at Sevenly love most about SALT effect's message, is the concept that serving and learning together in our personal lives, families, and communities is the key to ditching the hamster wheel. "Small actions, like sprinkles of salt, will change the world." Their blog posts provide compelling insight and resources that help remind us to reflect and reset often, to find joy and satisfaction in daily life. Read their latest post,The Hunt for Happiness: Is This All There Is? to start 2020 with renewed intention. And to start 2020 with some fun, visit SALT's Winter Gratitude Photo Scavenger Hunt that's designed to give families some valuable time together.
Will you join Sevenly in supporting Mary and Kristie to sprinkle their vision of world-change even farther? First, go follow their blog for smart and timely guidance in this new year. Then, shop their cause collection! Your 7% donation will help fund their objective to teach and inspire working moms to intentionally create lives they love. Their collection will only be available for 7 DAYS so shop their new graphics and some Sevenly favorites today!
---