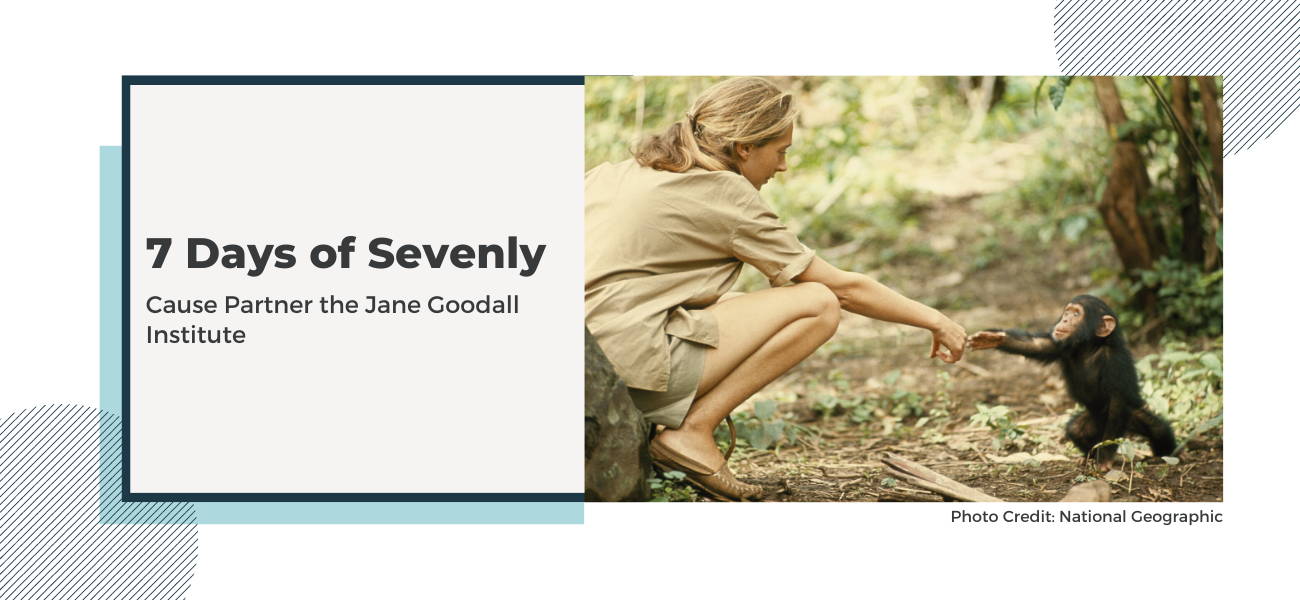 In 1960 Dr. Jane Goodall went into the forest to study the lives of chimpanzees when little was known about their habitat and communities. Years later, she left that forest to save them; an example for every world-changer. Her organization the Jane Goodall Institute is our Cause Partner for day 3 of the 7 Days of Sevenly.
During Dr. Goodall's first years with the chimpanzees, she discovered that their survival was threatened by habitat destruction and illegal trafficking. What makes her so special is that the strategy she developed for their protection improves the lives of people, animals, and the environment instead of placing just one as a priority. She understood, by living in the chimps environment, that honoring the connection between people and nature, was the answer.
In 1977, she founded the Jane Goodall Institute to ensure that her vision and life's work continue to mobilize the collective power of individual actions to save the natural world we all share. Today she has multiple organizations from middle schools to research centers. She travels 300 days a year to ensure that her holistic messages reach the maximum number of people. If you would like to follow her travels, you can check the link on her website, Where in the World is Jane, to see what she is up to every day!
On day 3 of the 7 Days of Sevenly, we have created a gift with purchase that helps you bring awareness to her cause and spread her message. When you shop the Outdoors and Environment Collection, look for the Jane Goodall Institute as the Cause Partner and 7% of your purchase is directing to supporting her world-changing work. These graphics are the perfect give for nature-loving world-changers!