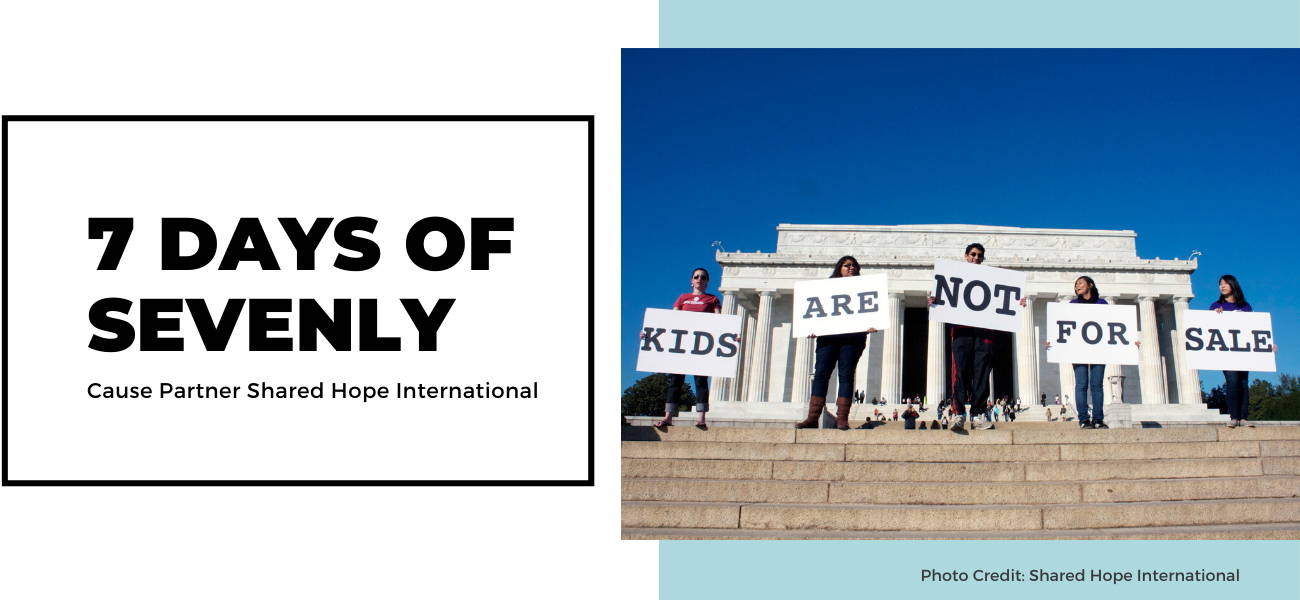 In 1998, Congresswoman Linda Smith witnessed the sexual slavery and exploitation of women and children in a brothel district in Mumbai, India. What she observed compelled her to take action against what she saw. This inspired the organization Shared Hope International, our Cause Partner for day 4 of the 7 Days of Sevenly's creation.
Shared Hope International exists to prevent sex trafficking, restore its victims, and bring justice through their Center for Justice and Advocacy, bringing healing to devastated lives. First, SHI's sex trafficking training works to increase the identification of vulnerable individuals and aims to improve the response of child-serving professionals like first responders, pursuing new or advanced methods to disrupt trafficking.
Next, SHI offers protection and restorative care to women and children in need. They offer safe homes, medical care, education, vocational training, therapy, and outreach and intervention services for survivors. They offer partners all over the world strategic support so that they can meet the needs of sexual slavery survivors, including the brand new Village of Hope in India.
Finally, SHI works to bring justice through legislative advocacy, policy resources, state law analysis, and special projects. They also work to combat demand and end online facilitation.
All this and more is why we have chosen to bring awareness to Shared Hope International's amazing work on day 4 of the 7 Days of Sevenly! Give the gift that gives back by holiday shopping in the Slavery + Trafficking Collection. Today only, you will receive one of our most popular tees, Be The Change, FREE with any purchase.